Posts Tagged 'stampin' up discontinued product'
Here's a pretty card we made at technique class in February. There are several techniques involved in this card, but the one you'll want to pay close attention to is the use of the Watercolor Wonder Crayons to create the colorful background.
Stampin' Up! has had unforeseen problems with the supplier for Watercolor Wonder Crayons and Watercolor Pencils and so have decided to discontinue these two products.
Effective immediately, Watercolor Pencils (item 101879) and Watercolor Wonder Crayons Brights Collection (item 119804) will no longer be available.
Now for the good news! There are still remaining collections of the the following:
Item No. 119802 Watercolor Wonder Crayons Subtles
Item No. 119803 Watercolor Wonder Crayons Regals
Item No. 119805 Watercolor Wonder Crayons Neutrals
AND this card uses the Subtles Watercolor Wonder Crayons (So Saffron, Wild Wasabi, Rose Red and Baja Breeze) – and they're still available!
BUT these collections are only available while supplies last. Get them before they're gone! Visit my Online Store HERE, and also receive my Online Customer Perks!
by
Stampin' Up! just announced that they will not be carrying the Stocking Builder Punch from the current Holiday Mini Catalog over into the Idea Book and Catalog and that once the current supply of them was gone, they're gone for good!
Orders yours today . . . don't miss out on owning this fabulous punch!
Click HERE to order online or contact me at krisshuels@gmail.com.
CODE # 124095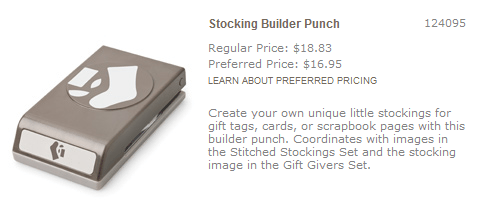 by