I have eight great cards for you in February AND back by popular demand is Scrapbooking!
Come make them at class OR
get them "By Mail!" with FREE shipping!
And as always, you have OPTIONS! There are two ways you can receive these cards.
Local Stampers:
We will be making cards and scrapbook pages at Stamp Shoppe on

February 7th & 8th

. Stamp Shoppe is located at 1000 Winton Rd N, Rochester NY 14609.
By Mail:
Can't attend? You can opt to receive cards "By Mail!" with

FREE shipping

. Your card packet(s) will be sent to you with all of the punching and die cutting done ahead of time, and you'll be e-mailed the PDF instructions for assembly.
I also have a special COUPON for you this month
to celebrate Valentine's Day!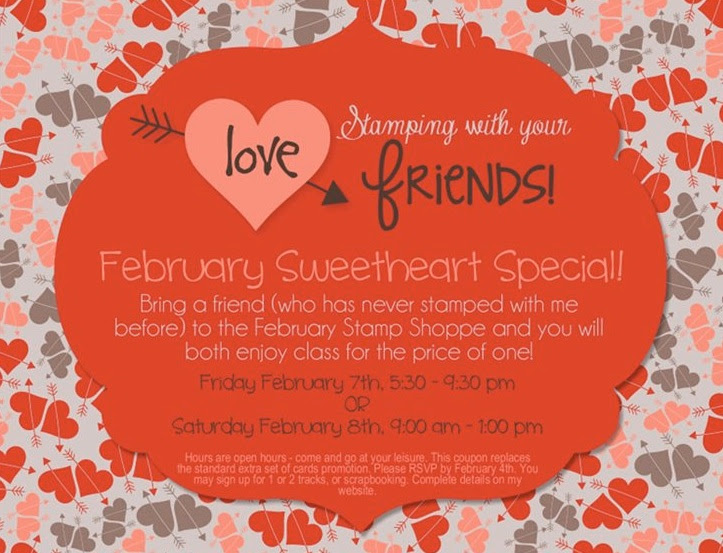 Live Long Distance? You can still take advantage of the coupon for introducing a NEW friend to "By Mail!" class kits! Your friend will need to e-mail me her interest and provide her mailing address. One kit will be shipped to her home and one to you!
Here's a look at Track A Cards for February:
Here's a look at Track B Cards for February:
Here's a look at Scrapbook Shoppe pages for February: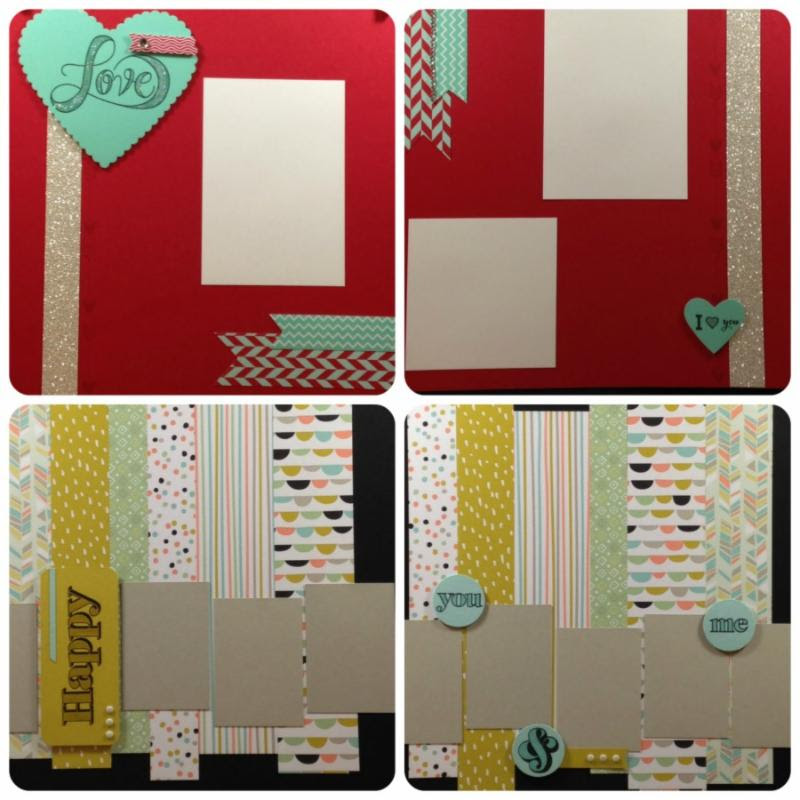 There is lots of flexibility with Stamp Shoppe! For Card Shoppe, there are two different track options – Track A and Track B. Each track features 4 different card designs. Choose one track, two tracks, or even two of one track if you really like one particular set of cards! And then there's Scrapbook Shoppe with 2 spreads for a total of 4, 12" x 12" pages. Come just for Scrapbook Shoppe or add in a card track at the same time – whatever YOU want to do!
Make 4 cards with one track (your choice of A or B) for $12 or FREE with a minimum order of $22.

Make 8 cards with two tracks (either track A & B or two of one track) for $20 or FREE with a minimum order of $35.

Make 4, 12" x 12" scrapbook pages for $25 or FREE with a minimum order of $45.
There is a discount for doing 8 cards (both tracks or double of a track) – $4 cash discount and a $9 ordering minimum discount!
These rates apply for both those attending locally and for "By Mail!" Kits! And, "By Mail!" Kits SHIP FREE* – it's the exact same price to attend or get the kit!
*For Card Shoppe. Scrapbook Shoppe is not available By Mail.
Use hostess/workshop code
PR43FE7S
when ordering through my online store HERE and receive your card kits or scrapbook pages completely free! Cards will be ready for you to pick up or will be mailed to you free of charge. Scrapbook pages can be picked up from me but will not be mailed out.
Click HERE for more info on attending the class.
Click HERE for more info on my "By Mail" program with FREE shipping.
by